Joyato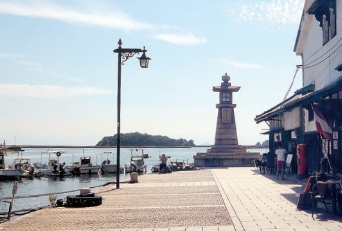 The tower, exceeding 10m from the foundation platform, is the tallest among existing Joyato lanterns of the Edo period. In the town of Tomo, the harbor showcases traces of the Edo period including Joyato (all-night street lanterns), Gangi (stair-like boat landing), Funabansho (old coast guard station) ruins, Ohato (big breakwater), and ruins of Tadeba (old dock) on which ship maintenance and repair were performed.
Taichoro (Fukuzenji Temple)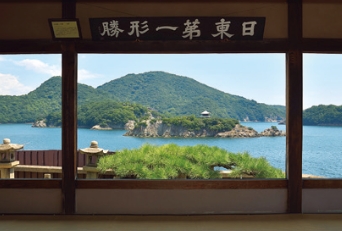 Taichoro was built as a reception hall next to the main hall of Fukuzenji Temple during the Edo period. Commanding a beautiful view of the Seto Inland Sea, the temple served as a guesthouse for Korean envoys and became the setting for historical exchange.
Residence of the Ota Family and Ruins of Tomo Shichikyo-ochi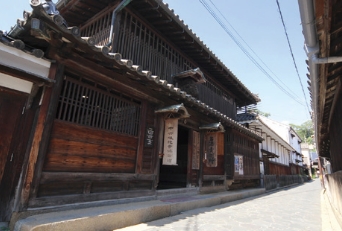 This cluster of building structures, which once prospered as Homeishu breweries, consists of nine buildings, including the main house and serves as the center of the Tomo townscape.
Sensuijima Island and Bentenjima Island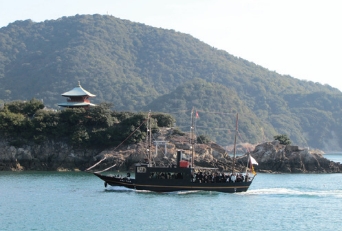 Sensuijima Island approximately 6km in ircumference and appearing as if it is floating off the shore of Tomo Port, is 5 minutes by town ferry. The name comes from its eternal beauty where even Sennin (a benevolent spirit or Taoist immortal) was completely mesmerized. Bentenjima Island is located between Tomonoura
and Sensuijima Island, on which Benzaiten, a guardian deity for fishermen is enshrined. The Fukuyama Tomonoura Bentenjima Island Fireworks Display launches its spectacular nighttime event from this site every May.