Tomonoura has many events and experiences! For all of Tomonoura's events, check out our website!
Tomo Townscape Doll Festival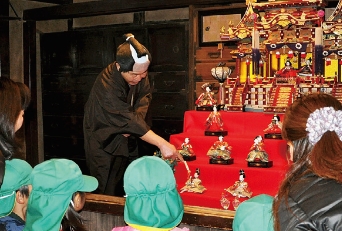 Shops, ryokan (Japanese style inns), and machiya (traditional wooden townhouses) on the streets of Tomonoura exhibit Hina dolls having been handed down generation after generation. You can see treasured Hina dolls that were created during the Edo period through the Meiji period.
Period: Late February to mid-March
Site: All across Tomo
Tomonoura Taiami Sea Bream Netting Festival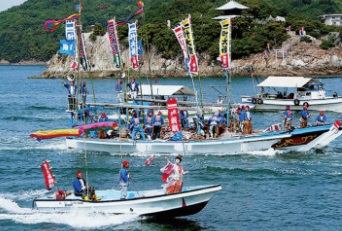 Watch a fish haul as a group of fishermen on fishing boats track down, net and haul in, in one single swoop, a school of red sea bream. This local fishing technique boasts 380 years of spirit and muscle.
Period: Early to mid-May
Site: Offshore of Sensuijima Island
Fukuyama Tomonoura Bentenjima Island Fireworks Display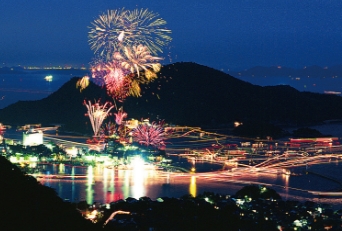 At this seasonal tradition that signals the beginning of summer in Setouchi, flreworks add to the atmosphere that is so unique to Tomonoura. Before the display, local residents and children perform traditional Japanese "Aiya-bushi" entertainment.
Period: Last Saturday of May
Site: All across Tomo (Launch site: Bentenjima Island)
Otebi Shinto Ritual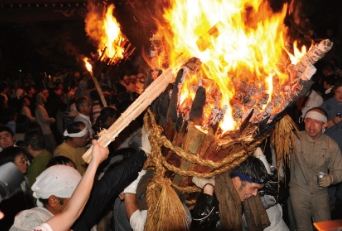 Three giant torches (called Otebi) approximately 150kg in weight are carried up a series of shrine steps to the hall of worship in a display of fortitude and passion for tradition. This Shinto ritual of fire that colors a single summer night orange and red in Tomonoura is one of Japan' s three great fire festivals.
Period: Night before the second Sunday of July
Site: Nunakuma Shrine