Abuto Kannon-dō Hall(Bandai-ji Temple)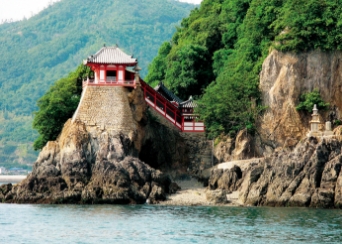 This temple is said to have been built around 992 by Emperor Kazan to pray
for safe seas, with a stone statue of an eleven-faced Kannon (Guanyin/Goddess of Mercy).
The vermillion-lacquered Kannon-dō Hall, located on a rocky cape in the Seto Inland Sea, has been introduced in various works of art.
From the ukiyo-e paintings of Andō Hiroshige to the novel A Dark Night's Passing by Naoya Shiga, Abuto Kannon illustrates the beauty and harmony of the inland sea. Today, the Kannon-dō Hall is registered as a national tangible cultural property, and many come here to pray for pregnancy and safe childbirth.
Fukuyama Castle
In 1619, Mizuno Katsunari, a vassal of the Tokugawa family, became lord of this stronghold of the Bingo Province in western Japan, and after the castle was built the castle town of Fukuyama developed and the history of Fukuyama began. The castle was ruled by five generations of the Mizuno clan, one generation of the Matsuhira clan, and ten generations of the Abe clan until the castle was abandoned in 1873. Following this, the main castle tower, Fushimi Turret, Sujigane-mon Gate, and Oyudono (bathhouse) were mostly demolished.
Furthermore, the main castle tower and Oyudono were burned to the ground during the air raids on Fukuyama in 1945. However, in 1966, celebrating the 50th anniversary of Fukuyama's establishment as a city, the main castle tower, Oyudono, and Tsukimi Turret were restored. Fushimi Turret and Sujigane-mon Gate, which thankfully escaped unscathed, were designated as national important cultural properties. Fukuyama Castle is one of the last examples of early-modern castle construction, and it is praised as one of the leading examples of castle-building technology.